Baoti Group Sheet Factory's Oversized TC4 Titanium Thick Plate Was Successfully Delivered
Baoti Group Sheet Factory's Oversized TC4 Titanium Thick Plate Was Successfully Delivered
Recently, Baotai Sheet Factory successfully delivered a batch of oversized TC4 titanium alloy thick plates with dimensions of 100×2100×4000mm and a single weight of 3900kg, marking a breakthrough in the group company's full-process production capacity of oversized TC4 #titanium alloy thick plates.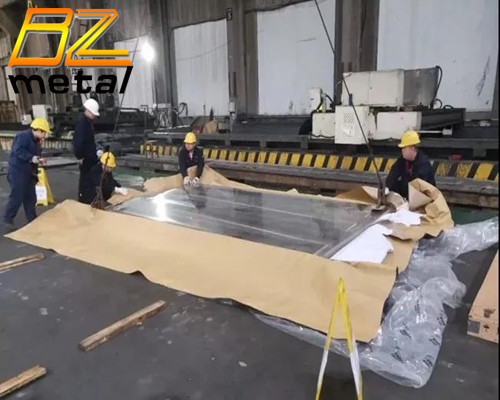 It is reported that this batch of plates is the TC4 titanium alloy thick plate product with the highest single weight delivered by the sheet factory in recent years. Its size and weight far exceed conventional products, making it extremely difficult to produce. After receiving the production task, the sheet metal factory organizes technology, equipment, and production personnel as soon as possible, conducts a comprehensive assessment and demonstration of process feasibility, equipment capabilities, and production capacity, and formulates a scientific and reasonable process route and technical plan.
The research team of the Technical Quality Section tracks and manages the production of materials 24 hours a day, and strengthens the control of the product quality process. The Production Management Section carefully organizes production, trains production personnel, and effectively coordinates feeding and material transfer. The Equipment Management Section strengthens equipment inspection and maintenance to ensure reliable operation of equipment. In the end, with the cooperation and close cooperation of Kuanhou Plate Company, the batch of plates successfully passed various factory inspections and were officially delivered to customers.