Use 3D Printing Lamination Technology To Mix Titanium Alloy And Stainless Steel Into New High-Perfor
Use 3D Printing Lamination Technology To Mix Titanium Alloy And Stainless Steel Into New High-Performance Materials
Recently, a research team from the City University of Hong Kong designed a method that uses 3D printing laminated molding technology to disperse a small amount of stainless steel in a titanium alloy, thus creating a new material with unprecedented new microstructure and mechanical properties.
Although it is about 40% lighter than steel, it has a tensile strength of 1.3GPa and a uniform elongation of about 9%, and it also has a large work hardening capacity of 300MPa or higher. Existing material manufacturing methods cannot disperse completely different types of alloys on the microstructure, and 3D printing technology is expected to realize this possibility, thereby creating completely new materials.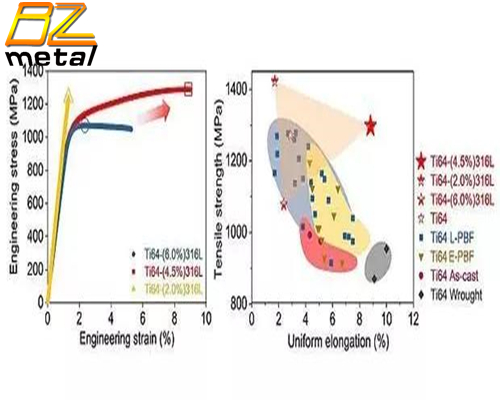 Generally, the un-evenness of the metal composition in the alloy will affect the performance of the alloy. However, through model theory and simulation research, the research team found that controlling the unevenness of the alloy composition and microstructure at the microstructure level can improve performance. Therefore, the research team used #titanium alloy powder and a small amount of stainless steel powder to 3D a new material.
"We successfully dispersed a small amount of 316L stainless steel into the Ti-6Al-4V alloy matrix." The research team introduced.
By controlling factors such as 316L dispersion, laser output and scanning speed, the microstructure and mechanical properties of the produced materials are optimized. And when the dispersion of 316L is 4.5%, the best performance can be achieved.
Through this technical method, the free dispersion of different metals at the microstructure level can be achieved. The research team will further extend this manufacturing method to other metals to create new materials with novel microstructures.